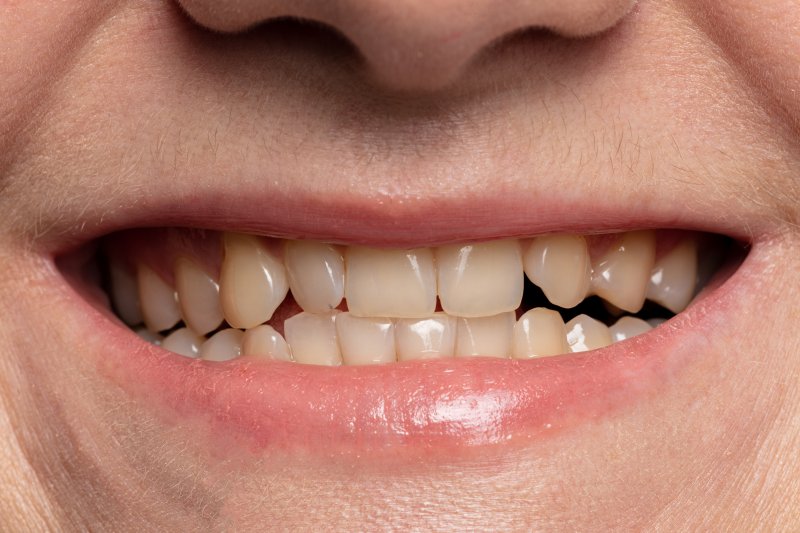 Everyone wants a smile they can be proud of. Unfortunately, that is not always the case. If you are someone who struggles with yellow teeth, a local dentist is here to answer this very question. This article will also discuss ways you can achieve the whiter, brighter smile of your dreams and officially say goodbye to your yellowed smile for good.
What Causes Teeth to Become Yellow?
Are you embarrassed by your smile? Do you worry others will cringe should you open your mouth to speak? It's natural to want a healthy, beautiful-looking smile but if yellow teeth are keeping you from embracing greater self-confidence, it's important that you learn the culprits behind the problem.
There are many reasons why your teeth might appear yellow, such as:
Overconsumption of dark-colored beverages and foods (i.e., coffee, tea, soda, red wine, berries, soy sauce, etc.).
Smoking or using tobacco products.
Certain medications were taken as a child or an adult (i.e., antihistamines, high blood pressure medicine, doxycycline, tetracycline, etc.).
Tooth discoloration caused by facial trauma.
Fluorosis, which is excessive exposure to fluoride as a child.
Ways to Treat Yellow Teeth
Instead of assuming there is no hope for you to embrace a brighter smile, you'll be pleased to learn that most dental offices offer cosmetic treatments designed to address this exact problem. No matter the reason for your dull, unattractive smile, a cosmetic dentist in Westport can recommend one of several treatment options to help you feel good about your appearance once again. These can include:
Teeth Whitening: Eliminating stains and discoloration can be made easy by opting for professional in-office or at-home teeth whitening. Unlike store-bought kits that lack the high-grade bleaching gel that is designed to target stains, seeing a trusted professional who can provide high-value products that eradicate surface and deep-down stains will leave you with beautiful results. In-office whitening often allows for a whiter smile in about one hour, while take-home kits produce results in as little as two weeks.
Veneers: These thin sheaths of porcelain are customized to fit snugly over the front surfaces of your teeth, effectively hiding imperfections like stains and discoloration. In two visits, your dentist can have you seeing a new and improved smile that looks beautiful and is fully transformed. Veneers are semi-permanent and can last up to a decade with proper care.
Direct Bonding: If you only have a few teeth that appear yellow, you may wish to opt for direct bonding. This minimally-invasive procedure uses composite resin that is applied to the tooth's surface and shaped into place. Covering the stain, it does not require the removal of any enamel, and it can last for several years before needing replacement.
Stains and discoloration no longer have to be your reality. With the help of a trusted cosmetic dentist, you can say goodbye to your yellow teeth once and for all.
About the Author
Earning her Doctor of Dental Surgery degree, Dr. Masha Kogan attended a General Residency at Hackensack University Hospital. She and the team at the Dental Center of Westport are truly invested in providing patients with quality care. If you are suffering from a lackluster smile that causes you to feel embarrassed, contact us at (203) 227-8700 to learn how we can transform your appearance with the help of cosmetic dentistry.