Invisalign® Clear Aligners – Westport, CT
Straighter Teeth without Metal Braces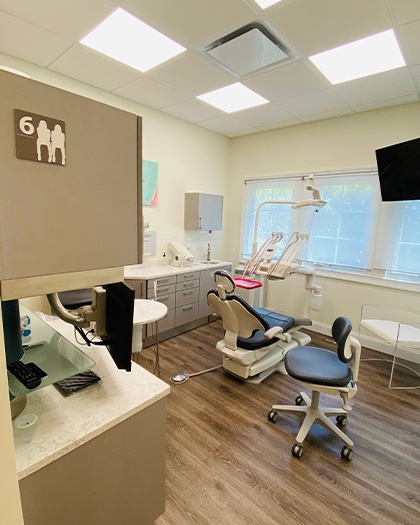 There are many adults out there who would love to straighten their crooked, crowded, or gapped teeth, but there is just one problem—they don't want to spend years wearing noticeable metal braces. This is completely understandable in today's image-conscious world, which is why the team at The Dental Center of Westport is happy to offer a more aesthetically friendly option: Invisalign. With it, patients can finally get the beautifully straight smiles they've always wanted without sacrificing their daily appearance in the process.
Why Choose Dental Center of Westport for Invisalign® Clear Aligners?
Say Goodbye To Metal Brackets & Wires
All-Digital Impression Technology
Propel® & VPRO® Accelerated Orthodontics For Faster Treatment
How Does Invisalign Work?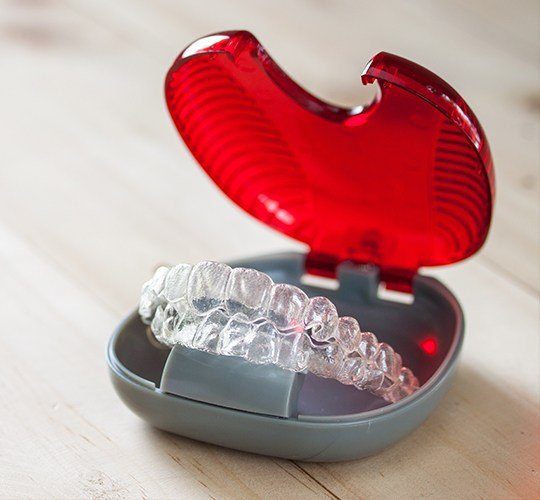 Instead of metal brackets and wires, Invisalign uses a series of custom-made clear plastic aligner trays to gently shift the teeth into their proper positions. A patient simply has to wear each set of aligners for about 20-22 hours a day for two weeks, and they will be specially shaped to gradually bring a patient closer to their ideal smile. After a patient has gone through the entire series, that's it, and they should see a perfectly aligned set of teeth in the mirror!
Indications for Invisalign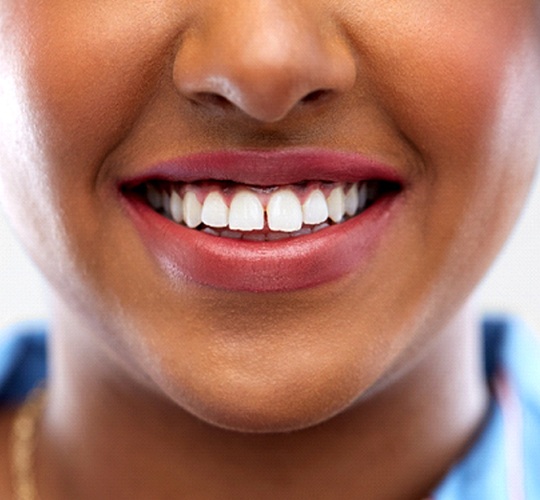 As one of the most versatile treatments available, Invisalign clear aligners can fix a host of orthodontic problems, including:
Crowded Teeth
If your teeth are too close together, you may notice that you have trouble brushing and flossing effectively. This is a problem, as harmful bacteria and food particles can become trapped and if left untreated, can result in tooth decay or gum disease. By using Invisalign, the aligners will shift your teeth to create necessary space as well as move them into proper alignment.
Spaces Between Teeth
Maybe crowded teeth aren't the problem but instead, it is too much space between your teeth. If this is the case, you, too, could experience the same problems of tooth decay and gum disease. With Invisalign, you will notice the gaps in your smile begin to close, bringing your teeth closer together and allowing you to officially say goodbye to all that extra space.
Bite Alignment
Individuals with bite alignment problems can also find success with Invisalign. By shifting the teeth either back or forward, depending on the particular problem, you will see a noticeable difference in how your teeth line up and bite improves. Whether it is an overbite, underbite, crossbite, or open bite, Invisalign can fix the problem.
Benefits of Invisalign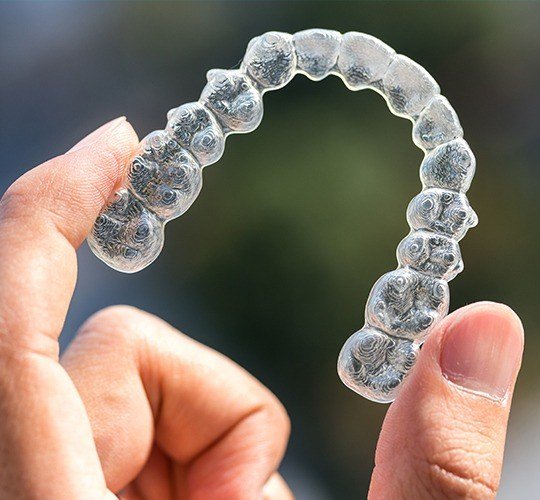 More and more patients are choosing Invisalign to straighten their smiles because it offers a number of one-of-a-kind benefits:
Subtle Appearance: The trays themselves are thin and crystal-clear, meaning no one will notice you're using Invisalign unless you tell them. Most patients report that their friends and coworkers only mention something after they have completed the treatment!
Comfortable Fit: Instead of metal that can cause irritation for the lips and gums, Invisalign trays are formed from smooth plastic and shaped based on a 3D scan of your teeth to ensure the perfect fit.
Convenience: Unlike braces, Invisalign trays are completely removable. This means a patient can simply take them out whenever it's time to eat or brush their teeth, allowing them to maintain their regular diet and oral hygiene routine during treatment.
Speed: In many cases, Invisalign is actually able to straighten the teeth faster than traditional orthodontics. Most cases only take about 12-18 months compared to the 2-3 years typically needed for braces.
Who is a Good Candidate for Invisalign?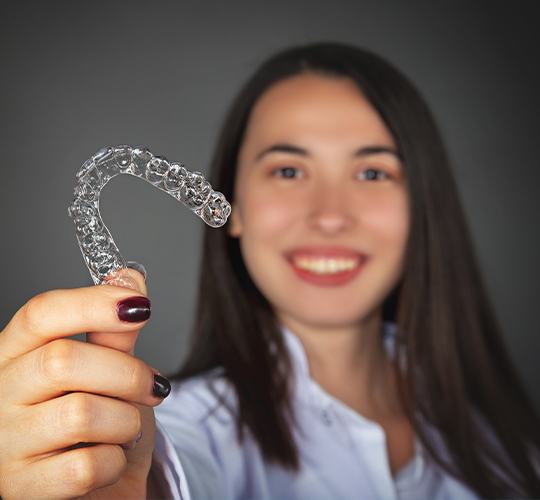 We primarily recommend Invisalign for adults and image-conscious teens who will be able to keep up with wearing their trays. Younger patients whose teeth are still developing would benefit more from traditional braces, and certain complex orthodontic issues can only be corrected with braces as well.
If you're interested in getting Invisalign, then we invite you to schedule a consultation here at The Dental Center of Westport. During this appointment, our team will discuss your smile goals, examine your teeth, and let you know whether or not Invisalign would be a good fit for you. If it is, then we can get to work designing your aligners right away. Before you know it, you'll have the gorgeously straight smile you've always wanted!
Cost of Invisalign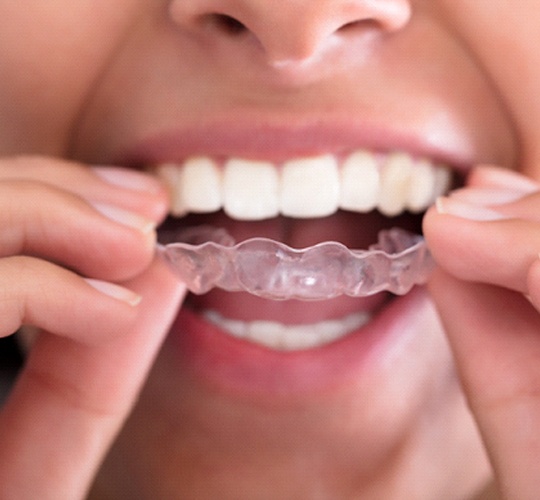 Since no two patients are the same, it will be necessary for you to meet with one of our dentists for an initial consultation. During this visit, they will not only examine your mouth to determine the severity of your individual case, but they will also explain the process of wearing Invisalign and what factors are included in the overall cost estimate. Some of these include:
How many aligners you will need throughout treatment
Your age and how committed you will be to wearing your aligners
Whether you need any teeth extracted prior to Invisalign treatment
If you'll need any replacement aligners
The retainer you will need to wear once you are finished with Invisalign
To learn more about Invisalign and how it could take your smile to the next level, contact us today.
Invisalign FAQs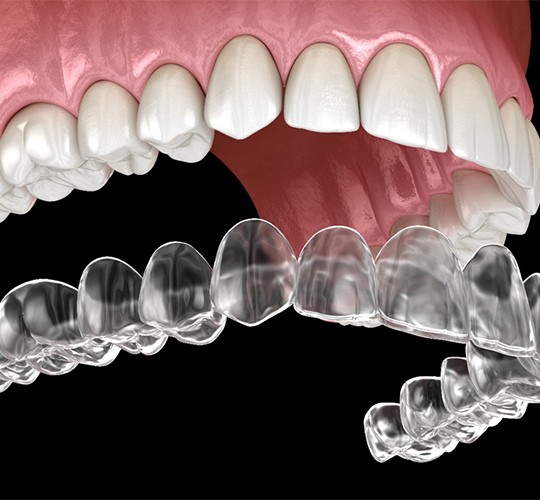 Before you move forward with Invisalign treatment, it is likely that you have several questions about the treatment process. Our team at Dental Center of Westport wants you to be confident and comfortable in your decision to pursue Invisalign, which is why we are pleased to provide some of the most frequently asked questions about this revolutionary orthodontic treatment for you to review. Should you have any additional questions, please don't hesitate to reach out to us.
Can I get Invisalign if I've had metal braces before?
Yes, there is a good chance you can expect to receive the green light for Invisalign even if you've previously worn metal braces. If your teeth have moved since your teenage years or early adulthood, our dental team will evaluate your smile to determine if the severity of the change can be addressed with clear aligners.
Can I get Invisalign if I have dental implants?
This is dependent on your individual case. Dental implants are put into place to help a patient enjoy life with a complete, fully functional smile. If only one tooth is missing, it may be possible to straighten your regular teeth with Invisalign. This is especially true if it is serving as the "anchor" and the rest of your teeth are planning to move into alignment with your implant.
However, there is a good chance you'll need to discuss different orthodontic options if you possess more dental implants than natural, healthy teeth.
It's important that you understand some difficulties can come with this process because dental implants are fused with the bone, so they're not designed to move.
Can I get Invisalign if I have crowns, veneers, or bridges?
Similar to dental implants, this is dependent on your case. Your cosmetic dentist in Westport may believe there is a way to straighten these teeth but ultimately, it is their decision. If you have a bridge, you more than likely will need to opt for an alternative treatment option because of its placement. Invisalign moves individual teeth not the row as a whole, so this can make the process more difficult, if not impossible, for certain individuals with restorations.
How should I take care of my aligners?
When caring for your aligners, all you really need is a toothbrush, clear soap, and lukewarm water. Using hot water can warp the plastic, so be sure it isn't too hot when you go to clean them. By keeping your aligners clean, you will remove dried saliva and harmful bacteria that can easily be transferred onto your natural teeth if you reinsert your trays prior to cleaning. If you prefer, you can purchase the Invisalign Cleaning System, but it is up to you.
Also, when you are not wearing your aligners, make sure to keep them in a protective case to prevent accidental breakage or losing your trays.
How will having straighter teeth improve my life?
Teeth that are crooked, misaligned, gapped, or overcrowded can pose serious problems for your oral and overall health. If teeth are left untreated, you can become more susceptible to tooth decay and gum disease as a result. Should infection and inflammation enter your bloodstream, it can travel to areas of your body and potentially cause a heart attack, stroke, diabetes, neurological conditions, and even respiratory disease.
By pursuing orthodontic treatment and using Invisalign, your cosmetic dentist can reduce your risk for these specific problems and, in turn, help to create a healthy, beautiful smile.
What are Invisalign attachments?
Initially, Invisalign was only for individuals with minor overcrowding, gaps, and bite misalignments. However, researchers have developed additional components known as buttons and attachments to make more severe cases a reality with Invisalign.
If you require an attachment, it will be bonded to your tooth using composite resin, and it will help the clear aligner to move your tooth into proper alignment. Buttons, on the other hand, are used when rubber bands are necessary to fix bite problems. No matter if you need one or both solutions, you can expect a flexible form of treatment that doesn't harm or damage your natural tooth enamel in any way.
Will I experience any surprises during treatment?
Even if you do enjoy surprises, you will be glad to know that wearing Invisalign should have you experiencing no surprises throughout your treatment. As long as you wear your trays 20-22 hours each day and are diligent about keeping them safe and clean when not wearing them, you should expect no delays in your treatment timeline. The team at Dental Center of Westport knows exactly what to expect when you are finished with treatment, so if at any point, a problem does arise, we will be able to take care of it immediately.
Will I be required to wear a retainer once I'm done with treatment?
Yes, you will need to wear a retainer once you have finished with Invisalign. The reason for this is that your teeth can easily shift back into their original spot without one. We will make sure you receive a retainer that is customized to fit your smile and offers comfortability. In the beginning, you may need to wear it all the time; however, after several months, it may be possible to wear your retainer only at night while you are asleep.