Dental Implants – Westport, CT
A Seamless Way to Replace Missing Teeth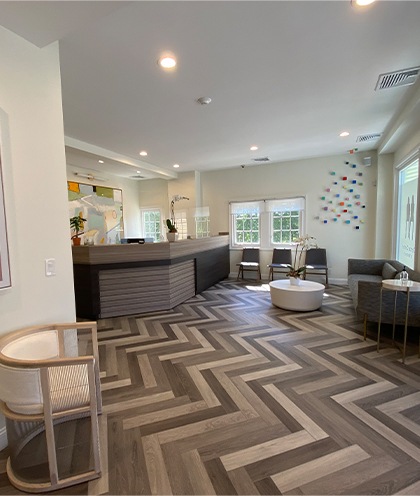 A full, healthy smile is essential for enjoying good oral health and wellbeing. Not everyone has a full smile, though. Conditions like gum disease and tooth decay can contribute to adult tooth loss, or an accident can result in the same problem. To help with this, our team at the Dental Center of Westport offers a popular, versatile restorative service known as dental implants. With this solution, we can help you replace what you've lost, granting you improved functionality, appearance, and confidence.
Why Choose Dental Center of Westport for Dental Implants?
Partnering with Westport's Best Specialists
Lasting Replacement Options For Single Teeth, Multiple Teeth & More
Highly Experienced & Dedicated Team
Benefits of Dental Implants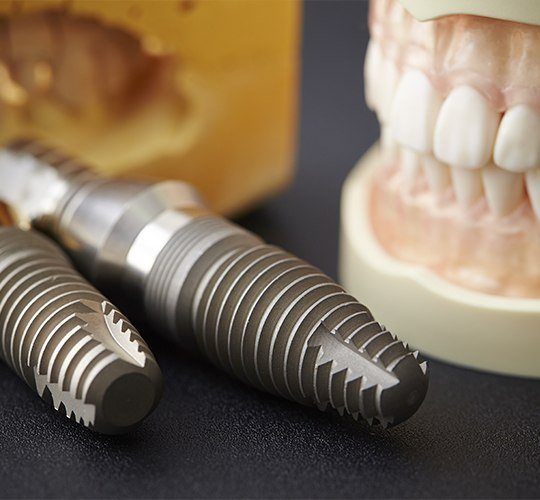 The difference between a traditional prosthetic and an implant-supported prosthetic is the metal implant post that holds the replacement tooth in place. When one or more implant posts are inserted into the jaw, they function like prosthetic roots. Over time, they'll even bond with the bone tissue in your jaw, ensuring a strong, natural feel.
This happens during the first phase of treatment, which will be completed by a skilled oral surgeon. In the next phase of your procedure, you'll come to our Westport office to have your brand new prosthetic placed by Dr. Kogan or Dr. Romano. Dental implants are versatile enough to replace a single tooth, a few teeth, and even a full upper or lower arch.
With your procedure complete, you can look forward to smiling with confidence and enjoying your favorite foods, including hard-to-eat fruits and veggies you had to avoid with your old partial or denture.
Indications for Dental Implants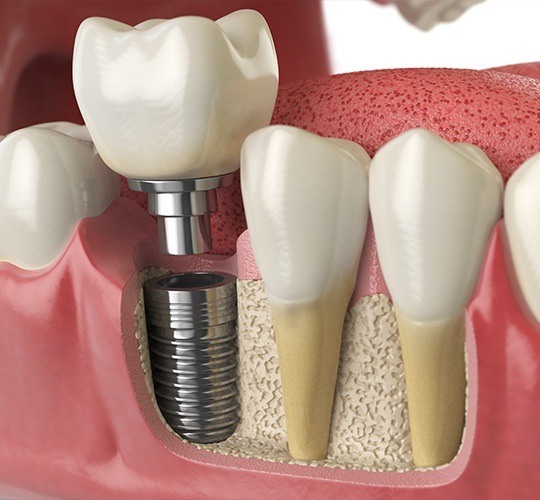 One of the biggest benefits of choosing dental implants is their unparalleled versatility. From a singular smile gap to the loss of most natural teeth, patients from all along the spectrum can benefit from their placement. Which situation best fits your needs below?
Missing One Tooth
A singular dental implant can be paired with an all-ceramic dental crown for seamless coverage. The new restoration will fit between natural teeth without requiring any major alterations to the original dental structure.
Learn More About Missing One Tooth
Missing Multiple Teeth
Implant-retained bridges can replace consecutive missing teeth. Unlike traditional bridges, they rely on the support of two placed implants, which is a healthier and longer-lasting option. Dental crowns are also a viable option.
Learn More About Implant-Retained Bridge
Missing All of Your Teeth
If an entire arch of the mouth requires replacement, implant-retained dentures are most cost-effective because they're anchored to a small number of implants. They can be permanently fixed in place or left removable depending on the patient's needs.
Learn More About Implant-Retained Dentures
Partners with the Best
At The Dental Center of Westport, we want to ensure that your treatment with dental implants is as successful as possible, which is why Dr. Kogan and Dr. Romano work with trusted surgical specialists to facilitate a smooth and safe experience. During this organized team effort, the specialist will handle the surgical placement of the implant(s) while our team will oversee the design and creation of the new dental restoration.
Understanding the Cost of Dental Implants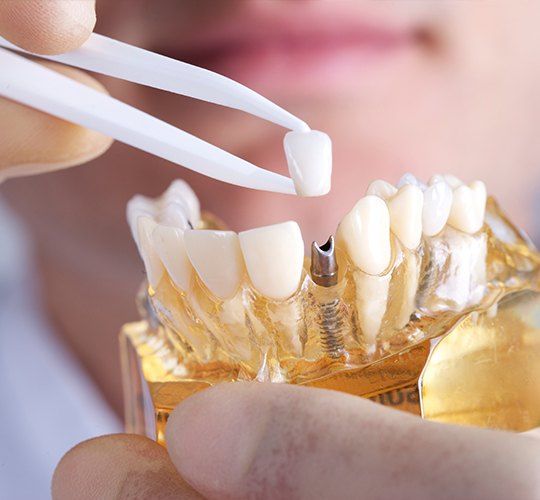 Every dental implant case is different – for instance, some patients may need to replace an entire arch with an implant-retained denture, while others only need a single crown. This makes it difficult to quote a precise cost until we've seen you here in Westport, CT for a one-on-one consultation. During this appointment, one of our dentists will carefully view your current oral health while discussing important matters like available budget and personal goals. Once everyone feels confident that implants are the right choice, we'll provide a comprehensive treatment plan that includes price estimates.
It's true that dental implants are more expensive initially than more traditional tooth replacement options like dentures and bridges, but we strongly believe that the investment is worth it. Implant-retained teeth are seamlessly natural and long-lasting; in fact, many patients are able to enjoy them for life with only minimal maintenance. Meanwhile, traditional prosthetics will likely need to be replaced at regular intervals.
Learn More About the Cost of Dental Implants
Are Dental Implants Right for Me?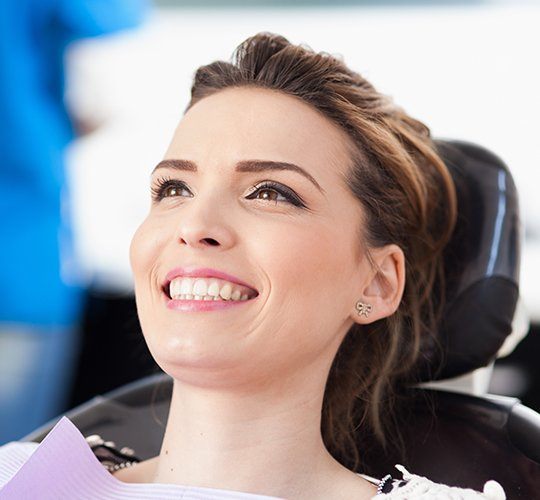 While many patients are excellent candidates for dental implants, they aren't for everyone. If you'd like to be considered for treatment with this excellent solution, we invite you to schedule a consultation with Dr. Kogan or Dr. Romano at the Dental Center of Westport. During your visit, we can complete a full oral exam and discuss which treatment options are right for you. If dental implants are the best option, we'll be able to explain the treatment process and answer any questions you might have.
Call the Dental Center of Westport today to reserve your appointment. We'll be happy to complete an oral health assessment for you. Our team is committed to offering comprehensive restorative care that improves oral health and changes lives.
Dental Implant FAQs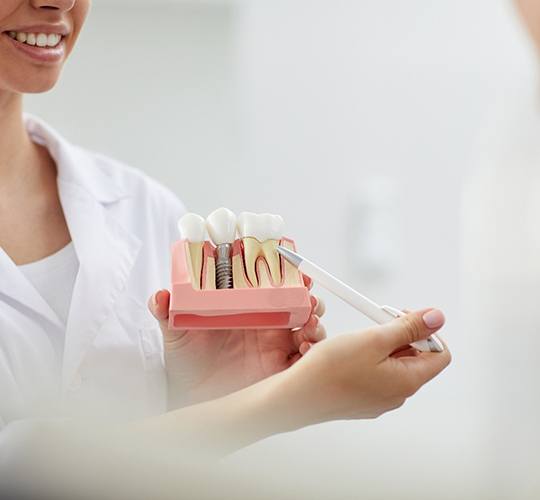 When it comes to having a dental implant put into place, you probably have a lot of questions about the process, recovery time, cost, and overall functionality of your new smile. At Dental Center of Westport, our team is ready to provide the information you need to not only better understand the process behind this restorative treatment but also give you the confidence you need to make the right decision about your dental health. Below you will find a list of frequently asked questions about dental implants. Please take a few minutes to review the information. If you have additional inquiries or concerns, please do not hesitate to contact our office to schedule an appointment.
Can I eat what I want with dental implants?
If you are concerned about the foods you can eat while wearing dental implants, you'll be pleased to know there are very few limitations. Naturally, whether you have real or artificial teeth, hard, crunchy foods can cause damage to your enamel and/or restoration. This is why it is best if you avoid these as much as possible. You can also cut them into smaller pieces to make it easier to consume (i.e. apples, raw vegetables).
Fortunately, with dental implants, you won't have to worry about accidental slippage, as they are firmly situated within your jawbone. This ensures that you have greater functionality when eating and chewing.
What is expected in the days following implant placement?
In the days following your implant placement procedure, you will most likely feel some soreness and discomfort. This is normal, as your gums and bone will need to heal after your surgery. Whether our provides you with prescribed medication, or you purchase an over-the-counter pain reliever to use at home, make sure to take it as instructed. It is also helpful if you use a cold compress to minimize swelling and discomfort.
Your recovery process will likely take several months and will require that you be cautious of your activity level, the foods you consume, and your oral hygiene habits. After a few weeks, you will be able to resume some of your normal daily tasks.
Is it possible to switch to dental implants if I've had dentures?
Many individuals have no problem making the switch to dental implants; however, our team will need to examine your oral and facial structures to determine if your jawbone can fully support your implants and restoration. If not, you will likely need to undergo a bone graft or sinus lift to add bone minerals to the weakened areas of your jawbone.
If you are eligible for dental implants, our team will follow the same process to retrieve impressions and plan for surgical placement.
How much are dental implants?
When attempting to pinpoint an exact cost for dental implants, you must first know it is impossible. Why? Because every patient is different, and different factors play a part in the overall cost of your treatment. Some of the most common factors include:
The number of teeth that are missing
The location of the missing teeth
Pre-dental implant treatment (i.e. bone graft, sinus lift, periodontal therapy, tooth extraction)
Materials used
The surgical placement
Anesthesia/Sedation
The type of restoration you will need
During your initial consultation, we will go over your individual plan to determine how much you can expect to pay for your new smile.
Will dental insurance cover the cost of my dental implants?
Depending on your dental insurance company, they may or may not cover the cost of implant placement. If they do not agree to cover the surgery, they may opt to provide coverage for other aspects, including the consultation and/or restoration. No matter what your dental insurance company decides, you can trust that we will help you identify alternative ways to pay for treatment so that you can stay within your budget while receiving the care you need to restore your smile.