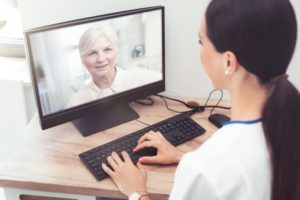 COVID-19 has certainly caused individuals across the globe to rethink how we interact with each other. For those who prefer to have no one enter their personal space, the "no contact" way of life right now may be quite welcoming. However, if you are one of the many who like to hug or high-five your dentist when you arrive for an appointment, you're going to need to come up with a different solution. To ensure dental office COVID-19 safety guidelines are followed, consider these 4 creative ways to say hello without making contact.
Why Should We Avoid Hugging or Handshaking?
COVID-19 is still very much a threat at this time, which is why most dental offices are implementing a "no hugging/no handshake" policy. While this might seem impersonal and unwelcoming to some, it allows everyone to remain better protected by avoiding unnecessary contact. Although it might seem difficult to accomplish, this is another way your dentist can practice social distancing while continuing to provide the highest level of quality dental care.
4 Contactless Ways to Say Hello
So, if hugging, handshaking, and high-fives are out, how can you safely greet your dental team in a way that says, "I'm happy to see you?" Here are 4 creative ways you might consider:
Teledentistry: If you are unfamiliar with this term, get ready to hear it more often. COVID-19 has thrust virtual appointments to the forefront, allowing dentists to perform consultations with individuals without requiring that they come into the office. With a series of questions and the opportunity to talk via a phone or computer screen, your dentist can offer treatment solutions and provide prescription medication, if necessary.
Offer an Elbow Bump: Instead of going in for the regular handshake, more and more people are turning to the elbow bump when greeting others. Your dental team will happily accept this form of hello, especially because it allows them to keep their hands free of unnecessary germs and bacteria.
Providing a Simple Wave: You can't go wrong with a simple wave of the hand. It is often a go-to method for many who would prefer to avoid direct contact even when there's not a pandemic going on. This definitely says, "I'm happy to see you!"
Opt for the Air High-Five: There's nothing wrong with offering up an air high-five after your checkup and cleaning. It's a great way to say, "thank you" and will often capture a laugh or two among the parties involved. Just make sure you mention you're offering one up or might accidentally be left hanging!
While these are just a few of the ways you can greet your favorite dental team members, you might also consider the "Namaste" stance with your hands together in front of you, the more proper curtsy, or even "jazz hands." If you need to look that last one up, that's okay! No matter how you choose to provide a contactless hello, know that your dentist is happy to see you and is ready to help you work toward a healthier, more beautiful smile.
About the Author
Dr. Masha Kogan and her team at The Dental Center of Westport are excited to begin seeing patients once again. After being closed and treating only those experiencing dental emergencies, we are taking serious measures to ensure the health and safety of everyone who works and visits our office. From increased sanitation efforts to wearing personal protective equipment, you will never have to worry about being at risk while visiting us. To find out more about what we're doing to better protect you, please contact us at (203) 227-8700.