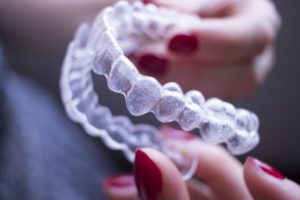 Periodontal disease is an extremely common problem millions of Americans face every day. Depending on its severity, patients can face everything from irritated, inflamed gums to bone or tooth loss. For someone with crooked teeth or a misaligned bite, one might wonder if orthodontic treatment such as Invisalign is even possible. If you're struggling with gum disease but need the help of clear aligners to improve the look of your smile, read on to find out how it can be achieved, even if you're faced with minor bone loss.
How Does Gum Disease Cause Bone Loss?
When gum disease, which is also known as periodontal disease, begins to attack the soft oral tissue surrounding your teeth, it can cause red, inflamed, and bleeding gums. Over time, if it is left untreated, plaque and tartar will spread beneath the gum line and cause pockets to form, making it easier for bacteria and food particles to become trapped. If the infection is allowed to spread further, it can reach the jawbone, causing it to weaken and ultimately, lead to loosening teeth that eventually fall out.
This can be problematic for individuals looking to improve the look of their smile with the help of Invisalign. However, while it is up to the dentist to determine how weak the jawbone is, it may not be completely impossible to achieve a straighter, healthier smile.
Is Invisalign Possible with Bone Loss?
It's no surprise that periodontal disease does pose a problem if you want to receive treatment with Invisalign. Individuals with gum disease often face gum recession and significant tooth mobility, but, if caught early enough, Invisalign treatment may not be entirely out of the question.
Prior to moving forward with clear aligners, your dentist will most likely refer you to a periodontist who specializes in treating gum disease. If the infection has not yet reached an advanced stage and they believe periodontal therapy can improve your gum health, a discussion will occur between your periodontist and orthodontist as to how to move forward with Invisalign.
While wearing your clear aligners, it is important that you continue receiving treatment for your gum disease. It is also equally as important to wear your aligners accordingly, as straighter, more stable teeth can make it easier to control periodontal disease.
Ideally, Invisalign is best for individuals with good oral health; however, don't count yourself out if you suffer from gum disease. With available, effective, and safe methods of treatment provided by your dentist, you can not only work to improve the health of your smile but its aesthetics as well.
About the Author
Dr. Masha Kogan, DDS, attended New York University for her undergraduate degree before going on to NYU's College of Dentistry. Earning her Doctor of Dental Surgery degree, she attended a General Residency at Hackensack University Hospital. She and the team at Dental Center of Westport are truly invested in providing patients with quality service. Whether a person is in need of a general cleaning or Invisalign orthodontics, she and her team can create a personalized treatment plan to ensure desired results are achieved every time. To learn more about our services or how you can straighten your smile with Invisalign, please contact us at (203) 227-8700.