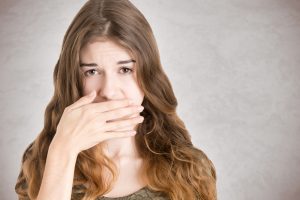 We've all been in a conversation with someone who has bad breath. You're doing your best to listen to what they are saying, but in your mind, you're also trying hard to not just run for cover. You survive it, and you go on about your day…until the thought hits you, "Have I ever been the person with bad breath and no one is telling me?" Most people with bad breath have no clue until someone lets them know, but those occurrences are typically pretty rare. Fortunately, making sure your breath stays fresh doesn't require some complicated routine every day, as these simple tips from your dentist will show.
Tip #1: Brush and Floss, but Don't Forget Your Tongue!
Bad breath is primarily caused by leftover food particles in the mouth being broken down by bacteria, which leads to the release of sulfur compounds. If you've ever smelled sulfur, then you know it's the last thing you want coming out of your mouth! An easy way to prevent this is to simply practice consistent oral hygiene at home. Brushing and flossing will prevent the buildup of odor-causing food particles and bacteria, but one thing that many people forget to do is brush their tongue.
The tongue can easily trap food particles as well and affect how someone's breath smells even more than the teeth and gums. Make sure to give your tongue a nice scrub while brushing, preferably with a tool designed just to do that (which conveniently enough is known as a "tongue cleaner).
Tip #2: Don't Be a Stranger to Your Dentist!
Bad breath can sometimes be a symptom of a dental problem that you can't really address on your own, particularly periodontal disease. This is an infection of the gums, roots of the teeth, and the bone that support them, and it can cause chronic bad breath that even brushing and flossing can't handle. Visiting your dentist at least twice a year will go a long way in preventing this kind of problem from developing in the first place, but if it does, your dentist will be able to take care of it so you can stay minty fresh.
Tip #3: Stay Hydrated!
Saliva is like the mouth's natural cleaner. It helps tremendously when it comes to preventing cavities, gum disease, and bad breath because it partially washes away the food particles and bacteria we've mentioned. However, certain medications and medical conditions can lower the mouth's production of saliva, leading to a condition called dry mouth. When the mouth is too dry, this allows bacteria to flourish, which can lead to extremely bad breath.
An easy way to combat this is to simply drink more water during the day to stimulate saliva flow. If dry mouth continues to be a problem, talk to your doctor, as they can offer you solutions that will keep your mouth both healthy and fresh.
And there you have it! Basically, taking care of your breath is tantamount to taking care of the rest of your mouth, so good oral hygiene is the name of the game. If you still find yourself dealing with bad breath despite brushing and flossing consistently and drinking plenty of water, be sure to consult with your dentist, as they may be able to help you discover an underlying cause.
About the Author
Dr. Masha Kogan has been practicing dentistry in Westport, CT for over 20 years. At her practice, she provides a wide range of general and specialized services, and she's more than capable of helping people who are worried about their breath. If you or a loved one frequently deal with bad breath, she can provide the solutions you need, so contact her today.