Implant-Retained Dentures – Westport, CT
Offering Permanence and Complete Functionality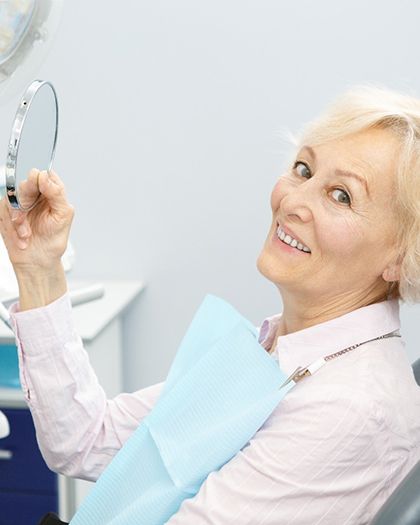 Dental implants are one of the most superior forms of tooth replacement available. While many alternative solutions can deliver an enhanced appearance, only implant-retained restorations can provide improved oral health from the root up, permanence, greater functionality, stability, and longer-lasting results. At Dental Center of Westport, our team will be happy to formulate a treatment plan that replaces your arch of teeth with implant-retained dentures. We not only work with the best, most trusted surgical specialists, but we will ensure the successful placement of your custom-made denture. Contact us to find out how you can get started with your own implant-retained dentures today.
How Do Implant-Retained Dentures Work?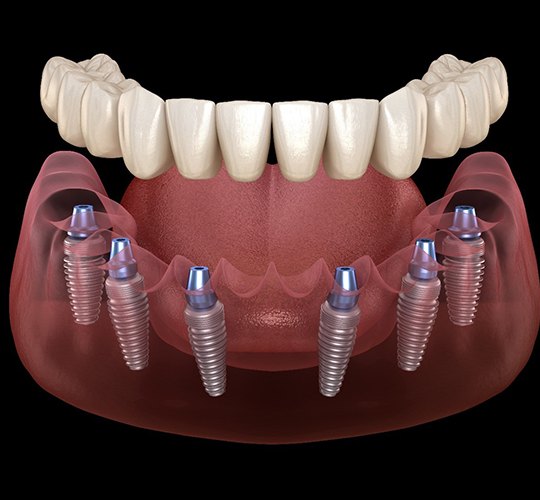 Implant-retained dentures are designed to replace an entire row of missing teeth. They can be placed along the top or bottom arch or both. Using between 4 and 6 dental implants, a trusted oral surgeon will make small incisions in your gums before placing each implant into the designated spot. After spending 3-6 months healing at home, we will secure your customized denture into place, allowing you to see a fully restored smile that is fully functional and can last decades or more with proper care.
Am I a Candidate for Implant-Retained Dentures?
The only way to know if you are a candidate for implant-retained dentures is to allow the team at Dental Center of Westport to examine your smile. This is accomplished using digital X-Rays and performing a visual exam on your oral and facial structures. It is necessary to determine if your jawbone is strong enough to support implants, as you will need a stable foundation for your implants to successfully fuse when placed.
If we discover your jawbone does not have sufficient density, you may be recommended for a bone graft or sinus lift depending on the location of your implant-retained dentures. This will allow you to receive additional bone minerals to strengthen your bone and create a stable base.
You will also need to be treated for any tooth decay or gum disease prior to receiving dental implants, as this can cause potential failure in the future if left untreated.
The Implant-Retained Dentures Procedure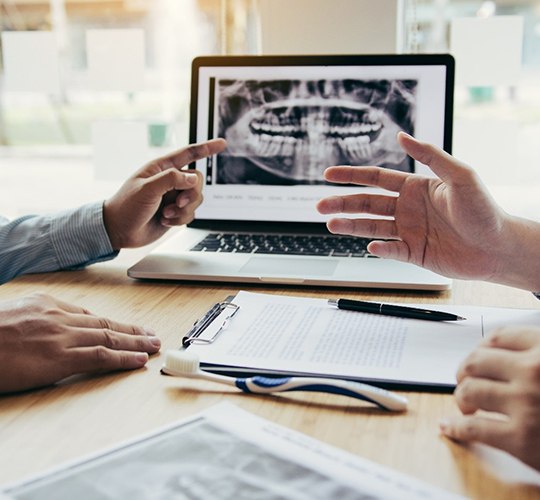 To receive dental implants, you will need to understand that the process does take time, so patience is important. You will first schedule a consultation with Dr. Kogan or Dr. Romano to let them examine your oral and facial structures. If given the green light to move forward with treatment, they will work alongside trusted surgical specialists in the area who will surgically place your implants.
During the procedure, they will make between 4 and 6 incisions in your gums before carefully placing each implant into the designated area. After closing the gum tissue, you will return home to recover for 3-6 months. This will allow the bone to fuse with the implant and surrounding tissues.
Once you are fully healed, you will return to our office to have your metal abutments put into place as well as your custom-made denture, which will be matched to your natural tooth color, size, and shape to create a natural, seamless appearance.
Benefits of Combining Dentures & Dental Implants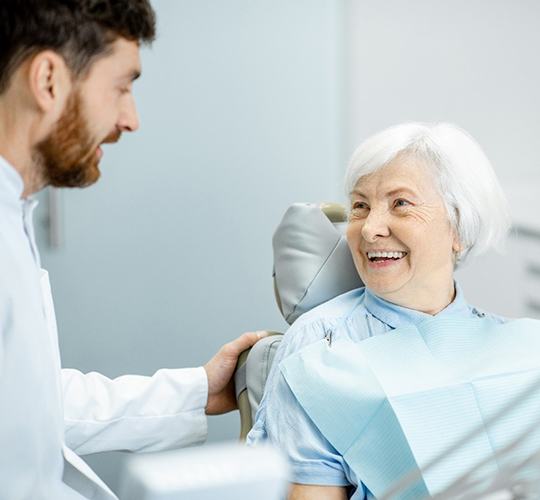 When choosing implant-retained dentures, you will notice the benefits are far more than traditional restorative solutions, such as:
Greater stability and functionality when eating, speaking, or chewing
Minimal maintenance, as you will be able to continue using your own oral hygiene tools at home to clean your teeth and gums
A longer-lasting smile because of their ability to last a lifetime with proper care and maintenance
Improved oral health because of the posts continued stimulation of your jawbone, which prevents changes in your facial shape and other negative effects caused by tooth loss
Enhanced aesthetics and boosted confidence