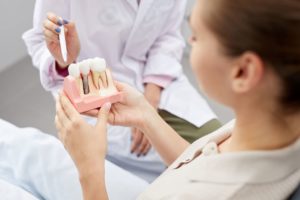 Dental implants are often considered the ideal treatment for replacing lost teeth. Of all the restorative options, they're the only one that fuses with your jawbone to function like a real tooth with a root. They help you maintain your facial structure in addition to allowing you to eat and drink like you did before tooth loss. This procedure isn't immediately considered for all patients, however. If you're wondering whether dental implants might be a good fit for you, keep reading about 3 of the characteristics that good candidates share!
Characteristic # 1: You Have Healthy Gums
Because dental implants involve surgically placing the support rod into the gap left behind by your missing tooth, it's imperative to have a clean surgical site. Unhealthy bacteria causing infection in your gums can spread to the implant and lead to failure. That means if you have gum disease, your dentist will work with you to clear it up before proceeding with dental implants.
Characteristic #2: You Have Appropriate Jawbone Density
The unfortunate truth is that when we lose teeth, our bodies reabsorb the surrounding bone mass because it's no longer being used. Over time this can weaken your jawbone to the point that it cannot effectively fuse with a dental implant. This doesn't mean you're without hope, though! Often your dentist can provide supplementary bone grafts that will bulk up your jaw. Once that heals, you can reconsider dental implants.
Characteristic #3: You Have Healthy Oral Hygiene Habits
With the right care and maintenance, dental implants can last up to 30 years! That means to make the most of them, it's important to care for them properly. Dental implant candidates need to include healthy oral hygiene habits in their routine if they don't already. If your dentist can see that you brush and floss your teeth twice daily, they know you're more likely to also maintain these patterns with your dental implant.
It's also helpful to avoid drinking or smoking excessively. These indulgences can interfere with your recovery period after implant surgery. You might end up with dry mouth or inhibiting blood clots from forming. Both these conditions can keep you from healing properly and could decrease the chance of implant success.
If you aren't already the shining example of clean gums and a healthy lifestyle, don't worry! There are ways your dentist can work with you to address some of the issues that could keep you from getting dental implants. Talk with your dentist today, and you'll be taking the first step on the road to getting replacement teeth that will last a lifetime!
About the Practice
At The Dental Center of Westport, our all-female dental team believes that oral healthcare should be considered one part of a whole-body approach to wellness. We use only mercury-free materials, and integrate nutrition and supplements in our treatment plans so patients leave feeling as good as they look! If you're interested in dental implants, you are welcome to contact us on the website or by calling (203) 227-8700.