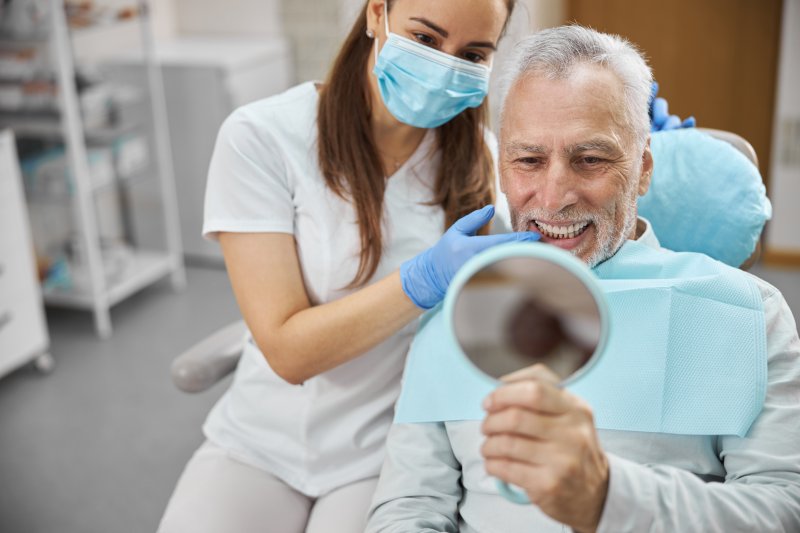 Are you tired of looking at an incomplete smile? Would you rather undergo necessary treatment to be able to enjoy eating your favorite foods again or smile with greater confidence? If so, there are many tooth replacement options available, but the most superior is dental implants. Their benefits are unlike those of dental bridges or traditional dentures, but are dental implants safe? Are there any risks associated with this type of restorative care? Find out more about these permanent prosthetics and why they're a great option for most patients.
How Safe Is It to Get Dental Implants?
Generally, dental implants are a safe option for patients suffering from tooth loss. Their ability to fuse easily with bone tissues as well as withstand normal wear and tear makes them a preferred choice for millions living in the United States.
The initial placement success rate is around 95%, so it is unlikely that you will experience any complications or problems along the way. However, some instances can occur when dental implant failure does happen.
The reasons this can happen include:
Peri-implantitis, which is similar to gum disease, often forms as a result of poor oral hygiene
Facial trauma that negatively impacts your dental implants
Autoimmune disorders (i.e., rheumatoid arthritis) or diabetes can make healing more difficult, resulting in failed osseointegration
Certain medications that can hinder the fusing process between the bone and your implant posts
Smoking or tobacco use of any kind, as nicotine weakens the immune system, making it harder to heal and combat any possible infections
How Can You Ensure Dental Implant Success?
Choosing dental implants to replace your missing teeth is a timely and costly venture. To make sure that you get the most out of your experience and investment, you'll need to commit to taking proper care of your new teeth.
To start, you need to find an implant dentist who is skilled in performing this type of minor oral surgery. This will ensure proper placement. Once your posts are in place, maintaining good oral hygiene, wearing proper mouth protection, eating healthy foods, and keeping your regular dental appointments will extend the lifespan of your new smile.
Opting for dental implants is one of the best decisions you can make if you suffer from tooth loss. When meeting with your dentist to discuss your candidacy, you'll quickly learn why they are viewed as the gold standard for tooth replacement.About the Author
Dr. Masha Kogan attended New York University for her undergraduate degree before going on to NYU's College of Dentistry. Earning her Doctor of Dental Surgery degree, she completed her General Residency at Hackensack University Hospital. She and Dr. Romano at The Dental Center of Westport are truly invested in improving the smiles of those in need. If you are considering dental implants to replace your missing teeth, contact us at (203) 227-8700 and let us help you start your journey