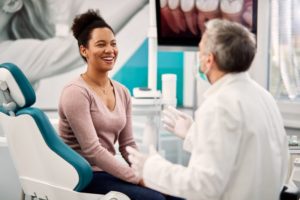 If you aren't entirely confident about the appearance of your smile, you will be pleased to know a variety of options can upgrade the current state of your teeth. However, you want to ensure that undergoing cosmetic dental treatment is in your best interest. So, is cosmetic dentistry safe? Continue reading to learn more from your dentist in Westport.
Are there Risks with Cosmetic Dentistry?
Cosmetic dentistry is primarily intended to improve the appearance of teeth. As long as you are under the care of a trained professional, cosmetic procedures are safe for the majority of patients, but not every treatment is right for everyone. That's why it's so important your dentist examines your mouth beforehand and gives you an honest assessment of which procedures would be ideal for you.
Some cosmetic services can pose a risk if an underlying oral health issue is present. For instance, if a veneer is placed over a tooth with untreated decay, this can make the tooth more difficult to repair later. However, your dentist will plan to address this type of problem before getting started with any cosmetic upgrade.
What Cosmetic Services Are Available?
Here are some of the most common treatments in cosmetic dentistry:
Teeth Whitening
You don't usually get the results you're looking for with over-the-counter teeth whitening products. Professional whitening is a safe option and much more effective. You can choose between an in-office application or at-home whitening trays. Those who select in-office whitening will see results in about an hour, while patients who opt for at-home whitening will be able to achieve a brighter smile in a couple of weeks.
Porcelain Veneers
Veneers are thin shells of dental-grade porcelain that are bonded to the front surface of the teeth to cover up all sorts of aesthetic flaws, including:
Gaps
Stains
Chips
Cracks
Undersized/misshapen teeth
Slightly crooked teeth
During your initial visit, a small portion of the enamel is removed to make room for the veneers. An impression is then taken and sent off to the dental lab where your permanent ones are crafted while you wear a temporary set. In just a few weeks, they are permanently secured to the teeth, and you leave the office with a beautiful smile makeover!
Direct Bonding
If you have minimal chips, cracks, stains, wear, or misalignment, cosmetic bonding is an excellent and affordable option. Your dentist will use a tooth-colored composite resin and sculpt it to your tooth. This procedure typically takes less than an hour and is best suited for smiles that only need a few teeth enhanced.
Is cosmetic dentistry safe? It certainly is when you count on a skilled dentist which has made it a booming industry. Schedule a consultation to formulate your personalized plan and then you will get to show off your new-and-improved smile soon!
About the Practice
At Dental Center of Westport, we like to get to know our patients and see if there is anything we can do to improve your time with us. Oral and overall health are deeply connected, so we only use mercury-free materials, plus we integrate nutrition and natural supplements into our treatment plans. We also provide preventive dentistry, restorative dentistry, and dental implants, but if you are interested in cosmetic dentistry, we offer the treatments referenced in this post and many more. Schedule a consultation on our website or by calling (203) 227-8700.