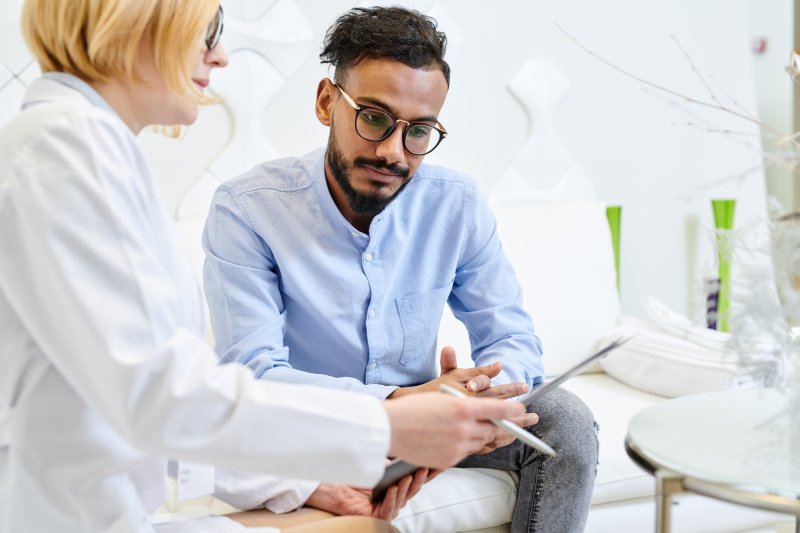 The moment you realize there is a solution that will address all the cosmetic imperfections you're experiencing, you may find yourself breathing a sigh of relief. Oftentimes, patients dealing with multiple flaws feel as if no hope is in sight, but fortunately, with a smile makeover, the chance for a newer, healthier, more beautiful smile is possible. But before you start the process, here are four questions you should plan to ask your dentist when preparing for your initial consultation.
What Issues Can a Smile Makeover Address?
A smile makeover is not an individual service. Instead, it is a collection of treatments designed to be compiled into a single treatment plan. If you are dealing with multiple cosmetic imperfections, it is possible for your dentist to recommend any combination of the following treatments:
Porcelain veneers
In-practice or at-home teeth whitening
Metal-free restorations
Direct bonding
Invisalign clear aligners
And more!
Will My Results Look Natural?
As long as you have done your research and found a skilled cosmetic dentist, your results should look completely natural when finished. It's important that you find someone with the experience and training to perform any of the above-mentioned services, as you want your new look to appear healthy and beautiful, not fake.
Can You Provide Some Before and After Photos of Patients?
Asking if the dentist is willing to share some before and after photos is completely reasonable. It's natural to inquire about the experiences of others and reading reviews can only do so much. Seeing the difference in other people's smiles can help you get a better idea as to whether you want to proceed with a smile makeover or not.
It can also be helpful to ask if the dentist provides some type of pre-smile makeover design. Some dental professionals use what is known as Trial Smile, which allows you to see what your smile will look like once all the necessary treatments are completed. By taking impressions and photos of your smile, they can create a mock-up, so you have a clear idea as to how your new teeth will appear. This can often be the one thing that seals the deal for patients interested in a smile makeover.
How Long Will the Process Take?
The answer ultimately depends on the type of treatments you receive. Some can be completed in a single day while others require multiple appointments. The average timeline for the services listed above include:
Veneers: 2-3 dental appointments
Metal-Free Restorations: At least two visits
Direct Bonding: 1 appointment
In-Practice Teeth Whitening: Results in as little as one hour
At-Home Teeth Whitening: Results in about two weeks
Invisalign: On average, results can occur between 12-18 months
Your initial consultation is your opportunity to ask as many questions as you want. Being prepared with the right questions will help you make the right decision about your future smile.
About the Author
Earning her Doctor of Dental Surgery degree, Dr. Masha Kogan attended a General Residency at Hackensack University Hospital. She and the team at Dental Center of Westport are truly invested in providing patients with quality care. If you are suffering from a lackluster smile that causes you to feel embarrassed, contact us at (203) 227-8700 to learn how we can transform your appearance with a smile makeover.