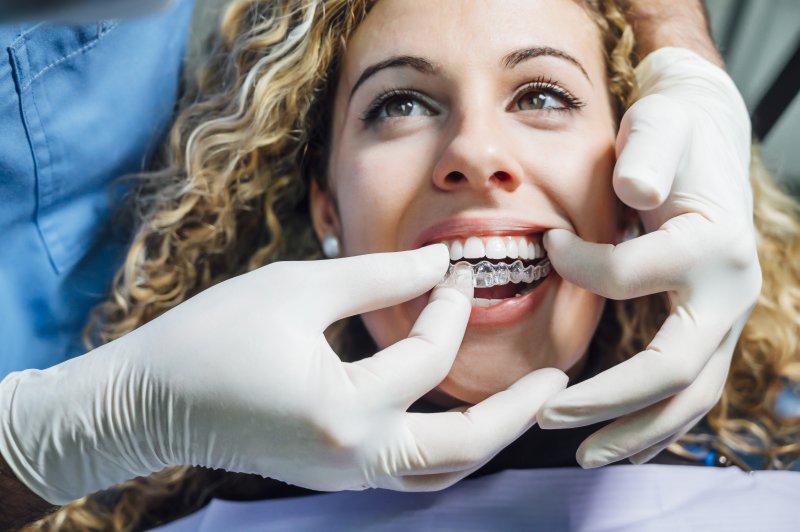 Whether you are preparing to start orthodontic treatment with clear aligners or are still weighing your options, you likely have additional questions. No matter which solution you choose, straightening your smile takes time, money, and a commitment to the process. But if braces that are virtually invisible and allow for quicker results are what you desire, it's time to review the following four Invisalign questions and answers to help confirm your decision.
What Should I Do If I Lose an Invisalign Tray?
Purchasing a protective case is a recommended investment once you receive Invisalign. For example, if you go to dinner with friends, you'll need to remove your aligners to eat. It's better to place them in the case than wrap them up in a napkin. Otherwise, you might lose them. Should this happen, you'll need to make sure you keep your most recent aligners, as you can wear them until you get in to see your dentist. After evaluating the progression of your teeth, you may need a new aligner, or your dentist might recommend you move ahead to the next set in the series.
What Can Happen if I Don't Wear My Invisalign Enough?
It is necessary that you wear your aligners for 20-22 hours each day. If you continuously fall short in this area, your teeth will not move at the pace your dentist anticipates. The easiest way for you to tell that you're not wearing your trays long enough is how it feels when putting in a new aligner. If your teeth do not fit comfortably within the tray, there is a good chance you will be required to have new impressions made, which will require you to spend additional time and money on new aligners. This can become a costly problem.
Will I Need a Retainer After Finishing Invisalign Treatment?
Yes, you will be required to wear a retainer once you are finished with Invisalign treatment. Teeth can easily shift back to their normal position if there is nothing to help hold them in place. A retainer is an excellent way to help keep your smile in position. At first, you may need to wear it full time for at least six months. After that, your dentist may recommend you only wear it at night for several years. The timeframe is different for each person, so you'll just need to make sure you're following your dentist's instructions.
Will Dental Insurance Cover the Cost of Invisalign?
Some dental insurance companies do offer coverage for Invisalign. However, others may have stipulations and exclusions, so you'll need to review your policy or have a member of your dental team work on your behalf. Age limits, orthodontic types, and available annual maximums are often considered. This is why it's also helpful to find out if your dentist offers alternative payment methods to keep your expenses low.
While these are just a few of the many questions that surround Invisalign, you are always invited to contact your dentist to schedule an appointment and inquire further about this unique orthodontic treatment.
About the Author
Dr. Masha Kogan attended New York University for her undergraduate degree before going on to NYU's College of Dentistry. Earning her Doctor of Dental Surgery degree, she attended a General Residency at Hackensack University Hospital. She and the team at Dental Center of Westport are truly invested in providing patients with quality service. If Invisalign is the recommended service for crooked or misaligned teeth, she can recommend additional services that will speed up treatment and produce long-lasting results. Please contact us at (203) 227-8700 if you want to learn how you can spend less time undergoing orthodontic treatment with Invisalign.