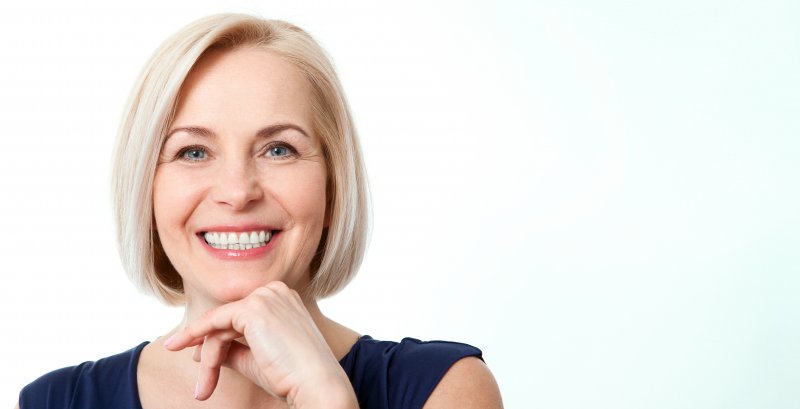 When learning you are eligible to undergo full mouth reconstruction, you may be excited about the idea of receiving a new and improved smile. After spending years unhappy with your appearance, you'll finally have the opportunity to embrace a more vibrant, complete look that gives you the confidence you deserve. But exactly which services are included? While no two patients are alike, here are 4 potential treatment options you might receive when preparing for full mouth reconstruction.
Porcelain Veneers
If you are suffering from cosmetic imperfections that keep you from feeling confident in your appearance, porcelain veneers can be used to hide these problem areas and give you a new reason to smile. Made of thin sheaths of porcelain, they are customized according to your desired shape, size, and color and placed over the front surface of your teeth. Requiring the removal of a small bit of tooth enamel, veneers are considered a permanent cosmetic dental treatment. With proper care, you can expect them to last 10 years or more.
All-Ceramic Restorations
If you have a tooth that is severely decayed or you are missing one or more consecutive teeth in a row, your dentist can have an all-ceramic dental crown or bridge created to restore your smile. Instead of relying on traditional amalgam that offers no aesthetic appeal, natural materials allow for a more blended look that makes it much harder for others to notice a difference between your real and artificial teeth. By applying a customized dental crown, it not only protects the tooth from future reinfection and damage but also helps to strengthen the tooth structure over time.
If a dental bridge is what you need to replace your missing teeth, multiple dental crowns will be fused to create the bridge before it is anchored over two healthy abutment teeth that sit on either side of the gap. These teeth must be altered to ensure a proper fit, but your dental bridge will be bonded for added security.
Inlays or Onlays
If you have a cavity that is too large for a dental filling but too small to justify a dental crown, an inlay or onlay can be created. An inlay fits within the grooves of your tooth and is created from natural-looking materials, allowing it to blend in with the existing tooth. An onlay uses the same ceramic but is designed to cover a larger area that extends over the cusps of your tooth. This can be an ideal solution if you are suffering from tooth decay but prefer to avoid more extensive restorative solutions like dental crowns.
Dental Implants
Known as the gold standard for tooth replacement, if you are missing one or more teeth, dental implants are a popular and reliable method of treatment. Instead of restoring to traditional dentures or a dental bridge, you can choose to have one or more titanium posts inserted into your jawbone to create a firm foundation for your new smile. Designed to last 30 years or longer with proper care, dental implants allow for greater functionality, longevity, and improved oral and overall health.
Your full mouth reconstruction may not be the same as someone else, but you can rest assured your dental team will work together to produce truly life-changing results.
About the Author
Earning her Doctor of Dental Surgery degree, Dr. Masha Kogan attended a General Residency at Hackensack University Hospital. She and the team at Dental Center of Westport are truly invested in providing patients with quality care. If you are suffering from a broken, stained, and incomplete smile, she and her colleague, Dr. Virginia Romano, can work together to build a treatment plan that breathes new life into your smile. Contact us at (203) 227-8700 to learn how you can get started with your own full mouth reconstruction.