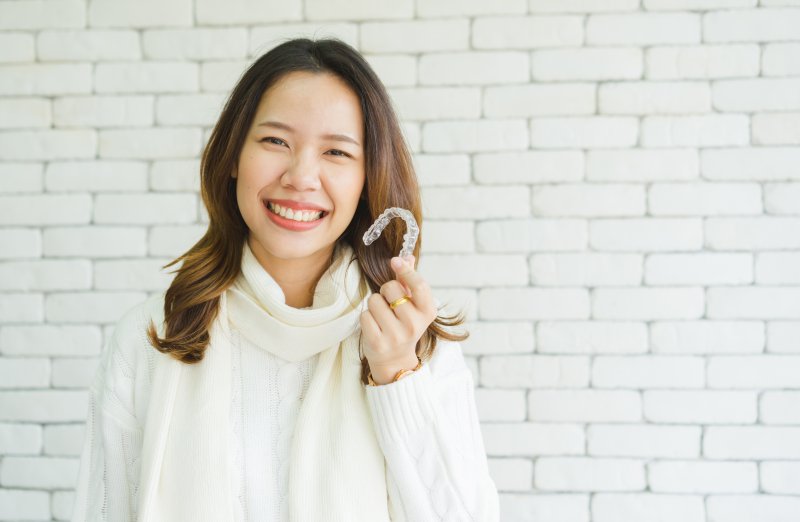 Although it might seem as if having a clear aligner over your teeth will protect them against tooth decay and cavities, this is simply not true. While undergoing Invisalign treatment, you are still susceptible to common oral health problems, especially if you choose to neglect your dental hygiene routine. In this article, we will take a look at how cavities during Invisalign treatment are possible and what you can do to minimize your risk while working toward a straighter smile.
Can Cavities Form While Wearing Invisalign?
The answer is simple: yes. Cavities can form at any time, no matter if you are pursuing orthodontic treatment or not. This is why so many dentists and orthodontists stress the importance of maintaining optimal oral hygiene. Brushing, flossing, and rinsing are essential to keeping teeth and gums healthy and free of decay and gum disease. Unfortunately, for many individuals, the time it takes to maintain their smile each morning and night is often spent in other ways.
Should you notice that a cavity is forming while wearing Invisalign, it's best to get in to see your dentist as soon as possible. Depending on its severity, they can place a dental filling or construct a crown, inlay, or onlay to better protect the weakened tooth. While these restorations may cause a change in the way your Invisalign trays fit, they are necessary to avoid more serious complications later on.
Ways to Reduce Your Risk for Cavities
Of course, preventing cavities from the start is recommended. You can do this by following a few simple tips, such as:
Brushing twice a day with fluoride toothpaste to strengthen tooth enamel and protect against tooth decay. You'll need to do this for two minutes each time.
Flossing at least once a day if not after every meal, as this will remove bacteria and food particles from in-between teeth, reducing your risk for gum disease and cavities.
Rinsing with an ADA-approved mouthwash, flushing out anything left behind that brushing or flossing missed.
Continuing to see your dentist every six months for regular dental checkups and cleanings even while undergoing orthodontic treatment.
Limiting your intake of sugar and starch, especially when it comes to snacking. The more of these foods you eat, the greater your risk for cavities. Also, the more you remove your trays to eat, the longer it will take to complete your Invisalign treatment.
Thoroughly cleaning your aligners to remove any bacteria from the trays, as it can be easily transferred onto your tooth enamel once reinserted into your mouth.
With these helpful tips in mind, you better protect your teeth while allowing Invisalign to move them in a way that will produce a healthier, more beautiful smile.
About the Author
Dr. Masha Kogan attended New York University for her undergraduate degree before going on to NYU's College of Dentistry. Earning her Doctor of Dental Surgery degree, she attended a General Residency at Hackensack University Hospital. She and the team at Dental Center of Westport are truly invested in providing patients with quality care. Whether a person needs a general cleaning or Invisalign orthodontics, she and her team can create a personalized treatment plan to ensure desired results are achieved every time. If you are worried you might develop a cavity while undergoing treatment with clear aligners, please contact us at (203) 227-8700.