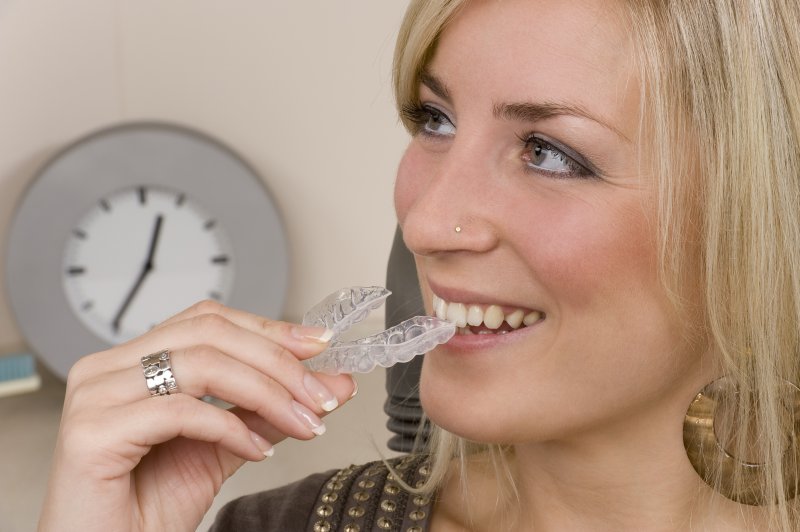 When compared to traditional metal braces, Invisalign clear aligners are a great way to reduce the amount of time receiving orthodontic treatment. However, if you're looking to spend even less time undergoing orthodontic treatment, you'll be pleased to learn there are additional solutions that can make it possible. A local dentist explains how following instructions and using PROPEL® & VPRO® Accelerated Orthodontics can have you seeing beautiful, long-lasting results in less time.
The Importance of Following Your Dentist's Instructions
The point of starting Invisalign treatment is to straighten your smile, correct? Choosing to see a trusted dentist who can deliver optimal results in less time is one of the greatest benefits associated with these clear aligners. But as a patient, you cannot rely solely on these clear trays to do all the work. You, too, must be an active player in making sure your teeth continue to move in the right direction without any delays. To do this, you will need to follow these helpful guidelines:
Wear your aligners at least 20-22 hours each day, only taking them out to eat, drink, or clean them.
Regularly brush your trays before reinserting them to keep bacteria and saliva from damaging your aligners.
Be mindful of your aligners when wearing and handling them, as accidentally eating with your trays in could cause damage or placing them in a napkin instead of a protective case could cause them to inadvertently be thrown away.
Keep your follow-up appointments with your dentist to ensure no problems are developing and everything is moving along smoothly.
Additional Ways to Reduce Time Spent Wearing Invisalign
Two safe and effective ways to speed up Invisalign treatment are PROPEL® Orthodontics and VPro™. With accelerated orthodontics like these, you can cut your time spent wearing Invisalign nearly in half! Here's how:
PROPEL – Requiring a minimally invasive procedure, your dentist will make small holes in your jawbone. The use of PROPEL makes it possible for your bone to shift and redevelop much faster while undergoing Invisalign treatment.
VPro™ – Should you choose, your dentist can equip you with a small, handheld device that is designed to be worn for five minutes each day while wearing your aligners. Its minimal vibrations allow for your teeth to move quicker while encouraging your trays to fit more comfortably. As a result, you'll enjoy an easier treatment that requires less time.
As it is with so many other aspects of society, it's no surprise that immediate satisfaction is quickly finding its way into the field of dentistry and orthodontics. If you're looking to straighten your smile with Invisalign, don't be afraid to ask about additional solutions that will grant you quicker results.
About the Author
Dr. Masha Kogan attended New York University for her undergraduate degree before going on to NYU's College of Dentistry. Earning her Doctor of Dental Surgery degree, she attended a General Residency at Hackensack University Hospital. She and the team at Dental Center of Westport are truly invested in providing patients with quality service. If Invisalign is the recommended service for crooked or misaligned teeth, she can recommend additional services that will speed up treatment and produce long-lasting results. Please contact us at (203) 227-8700 if you want to learn how you can spend less time undergoing orthodontic treatment with Invisalign.