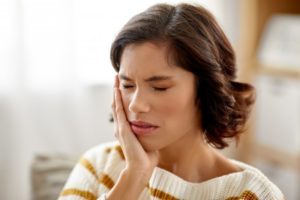 It's that time of year when allergies and sinus problems keep people indoors and loading up on nasal sprays and decongestants. If you are one of the unlucky individuals who are dealing with a nagging toothache, you might assume it's caused by the increased pressure in your sinus cavity, but is it? What if it's an abscess or other serious infection that requires root canal therapy or tooth extraction? Before you brush it off as a common side effect of your sinuses acting up, take some time to learn what signs to look for that might have you calling your dentist for help.
Sinuses vs. Tooth Infection: How to Tell the Difference
With pollen floating in the air and front laws perfectly manicured with freshly cut grass, you may not be enjoying the newness of spring like so many others. When your sinus cavity becomes inflamed, you will not only experience the sneezing, coughing, and itchy eyes, but you're likely to also suffer from a bothersome toothache. Considered to be a common side effect because of the proximity between your maxillary sinuses and upper teeth, the pain you're experiencing may also be caused by something else – a possible tooth infection.
Unsure how to tell the difference? Here are a few key signs to look for that will indicate it is related to your sinuses:
The most severe pain is located in your upper back teeth
You will likely feel discomfort throughout your mouth instead of it being focused on one tooth
Your dental X-rays reveal no decay or cavities
Your teeth may be more sensitive to hot or cold foods and beverages
If any of the above-mentioned signs do not apply to your situation, and you are dealing with a single tooth that is proving to be extremely painful and tender, call your dentist as soon as possible. This could be a serious infection that requires the expertise of a professional. Whether the recommendation is a root canal or tooth extraction, trust that your oral health is their number one priority.
How to Treat a Sinus Toothache at Home
By following these simple tips, you will begin to feel relief from the pain sooner than you think:
Take an over-the-counter pain reliever as instructed as well as an antihistamine and decongestant to help with inflammation and discomfort.
Use a humidifier to help you breathe easier and open your sinuses. This will encourage them to drain, releasing the pressure not only in your sinus cavity but also on your teeth.
Stay hydrated by drinking water. Along with broth-based soups can help with congestion and increase your fluid intake, which will work to flush out harmful toxins within the body.
If you are experiencing any type of tooth pain, don't wait to see if it will go away on its own. It's always better to call your dentist and explain the situation. By allowing them to examine your problem area, they will be able to recommend the right course of action to help you feel better sooner.
About the Author
Dr. Masha Kogan attended NYU's College of Dentistry, earning her Doctor of Dental Surgery degree. She then went on to complete a General Residency at Hackensack University Hospital. She and the team at The Dental Center of Westport are truly invested in providing patients with quality service. Believing in the importance of preventive care, Dr. Kogan works with patients to develop at-home oral hygiene habits to ensure optimal oral health is maintained. Unsure if your toothache is the result of seasonal sinus pressure or a more serious infection, contact us at (203) 227-8700 today!