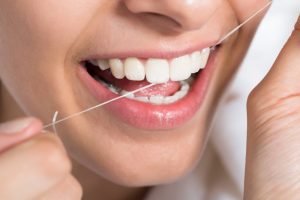 If you're like millions of other Americans, flossing is something you'd rather avoid. Brushing your teeth isn't so bad, but the extra time it takes to move a piece of dental floss between each and every tooth is asking too much. And what about people who have permanent bottom retainers? Trying to floss behind those is impossible, right? Well, even if you think flossing is an obligation you'd rather not have, it's vitally important to maintaining good oral health. Here are some ways to make flossing less annoying so you can enjoy a healthier mouth.
The Importance of Flossing
When it comes to flossing, it should never be considered an option if you want to keep your mouth free from gum disease and tooth decay. Flossing is an important aspect of your regular oral hygiene routine, as it removes plaque and other debris from between your teeth. If harmful bacteria is left behind and allowed to grow, it can travel beneath the gum line and cause periodontal disease, otherwise known as gum disease. Should you develop early stages of gum disease, gingivitis, you and your dentist can work together to stop the progression and reverse it, but if it advances and turns into periodontitis, you are at risk for bone and tooth loss, not to mention other health-related conditions such as cardiovascular and neurological diseases.
The Right Way to Floss Your Teeth
Before you begin to floss, you should know there is a right way to do it. Flossing any other way can be harmful to your teeth and gums, so be sure to follow these instructions:
Break off 18" of floss and wrap it around your middle fingers on both hands.
Hold the floss tightly between your thumbs and forefingers.
Gently glide the floss between your teeth being careful not to push it up or down.
Create a "C" shape against one tooth and the gums.
Gently rub the side of your tooth up and down with the floss, moving it up and away from your gums.
Don't forget to floss behind your last molars.
Ways to Make Flossing Fun
If you're having trouble incorporating flossing into your regular routine, there are a few ways you can help make it a habit. Feel free to use any or all the following tips:
Make sure you're using the right floss – Everyone's teeth are different, so if one floss doesn't work for you, try another! If your teeth are close together, purchase a finer floss. You might also try floss picks to help you handle and navigate in between your teeth.
Opt for a Waterpik – If regular dental floss isn't working for you, there's always the option of water flossing. Waterpiks are handheld devices that use water to push out any food particles from between your teeth. It's important to note that these devices don't remove much plaque, so you'll want to use it in conjunction with regular floss, if possible.
Set a reminder – Whether it's a notification in your phone or a post-it on your bathroom mirror, find a way to remind yourself to floss. It's best to floss when you have the most time so you aren't rushing the process.
Track your progress – When you begin flossing, mark it on your calendar so that at your next appointment, you can ask the hygienist how much plaque buildup is there in comparison to the last time you visited. This will help keep you motivated to learn you're doing all the right things to keep your oral health in check.
Reward yourself – When you begin to floss, set up a reward system. If you floss each day of the week for an entire month, treat yourself to a movie, dinner, or something special at your favorite retail store.
Flossing doesn't have to be an annoying task. By finding ways to make it work for you, you'll be well on your way to a healthier mouth. If you have questions about methods or ways to find the right kind of floss, talk to your dentist.
About the Author
Dr. Masha Kogan, DDS, attended New York University for her undergraduate degree before going on to NYU's College of Dentistry. Earning her Doctor of Dental Surgery degree, she then attended a General Residency at Hackensack University Hospital. She and the team at The Dental Center of Westport are truly invested in providing patients with quality service. Believing in the importance of preventive care, Dr. Kogan works with patients to develop at-home oral hygiene habits to ensure optimal oral health is maintained. If you would like to learn more about our services or about Dr. Kogan, please contact us at (203) 227-8700 today!