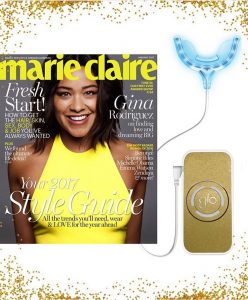 What is the first thing you notice when someone starts talking? Is it their voice? The idea they are expressing? If you are like most people, it's probably their teeth. Of course, this means people are looking at and judging your teeth all the time as well. This can make you feel a bit vulnerable if your smile is looking a bit yellow and dull lately. It's easy to become shy and quiet when you don't want people to notice your teeth. Fortunately, you can now completely turn that around with your cosmetic dentist in Westport, Dr. Masha Kogan, using our brand new system, GLO Teeth Whitening.
Why Are My Teeth Yellow?
Unfortunately, there are many things that can affect the color of your smile. Factors such as coffee, wine, tobacco, diet, and even genetics can break down your enamel and make it appear less white. This can have a big impact on a person's confidence, but it doesn't have to stay that way thanks to teeth whitening in Westport.
How Does GLO Teeth Whitening Help?
GLO Teeth Whitening is a new system that combines multiple methods of teeth whitening into one quick, extremely effective treatment. It attacks the stains on your teeth and breaks the bonds that hold them together, exposing your teeth to more oxygen, which makes them appear brighter and brighter. This can make your teeth look 6-10 shades whiter in a short amount of time.
Can you imagine how you would feel waking up every day and seeing a pristine white smile in the mirror? That's more of a boost than any cup of coffee can offer.  You'll be eager to talk to people and share your ideas because you know that as soon as you start speaking, you've immediately made a good impression.
How Does GLO Teeth Whitening Work?
The key to GLO Teeth Whitening comes from the combination of 3 elements:
The bleaching gel
The mouthpiece
The lights
The bleaching gel is a highly-concentrated hydrogen peroxide solution and does not contain harmful ingredients such as alcohol or carbamide peroxide (which are in many other whitening gels). It can help whiten your teeth while also reducing the sensitivity often caused by other methods.
The gel is held on by the mouthpiece. It ensures that you are receiving maximum contact from the gel and that it is securely held to your teeth. It also protects oxygen from escaping, maximizing its effect.
"GLO" actually stands for "Guided Light Optics." There are a series of lights in the mouthpiece which actually heat up and activate the gel. This is what makes GLO so special. This speeds up the molecules in the gel and helps it break down stains even faster. This combination of the gel, the lights, and the mouthpiece all come together to make GLO Teeth Whitening the most effective whitening method available today.
Where Can I Get It?
If you're interested in getting GLO Teeth Whitening, you can visit us at The Dental Center of Westport. We can quickly whiten your teeth in our office, or show you how it works so you can whiten in the comfort of your own home. It's entirely up to you.
If you don't like how your smile looks, you can now do something about it. GLO Teeth Whitening can give you the kind of smile that turns heads and makes you confident wherever you are. If you're ready to get the whitest smile of your life, make an appointment with us today.